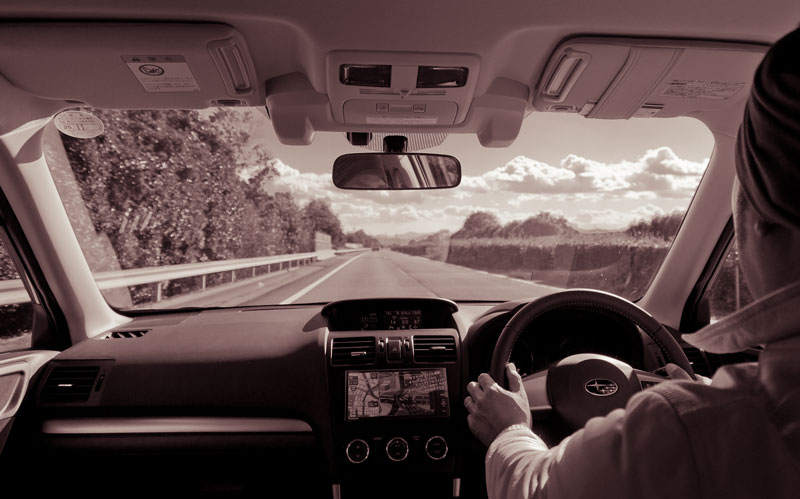 <About expressways charge> 
You can not ignore tha charge for expressways when you go out from Tokyo by car. I am sorry that the charge is so expensive in Japan compare to another country. But if you do not use expressways, it takes very long hours to get to there because of traffic jam. It is not a good idea. The expressways charge is decided by distance. And they have discount service depends on using time. I sometimes drive in the midnight because the price is discounted.

From Narita airport to Central Tokyo (2550yen, 78km, 2hours)
Inside of Central Tokyo (500-900yen)
From Central Tokyo to Nikko (3250yen, 123km, 3hours)
From Central Tokyo to Hakone (2000yen, 66km, 2hours)
From Central Tokyo to Kyoto (9650yen, 433km, 8hours)

Another problem for us is parking fee in the big city. We need to use a toll car park (pay parking) while you are shooting on location, otherwise you can pay 15000yen for policeman as a penalty. A parking fee is around 600yen/hour in the center of big busy cities. But some of toll car park has an upper limit on the charge. If they shows "3000yen upper limit". You do not need to pay over 3000yen even if you parked over 5 hours in a day.
But when you go to suburb area, the fee is more cheaper.

The price of petrol is also expensive in Japan. It costs around 160yen/liter now. My car can run about 10km/liter. So we have to pay about 1600yen in every 100km. But it is depends on the road condition and car weight. It may be worse when you and your heavy luggages in my car.
Cheap accommodation

Foreign travellers suffer from a expensive accommodation in Japan especially in Tokyo. But there are some cheap way to stay. I show you some example. If you use my chauffeur (Limousine) service for your business, I recommend that you stay in "Ikebukuro" area or "Wako-shi" station. It is much convenient for us.
Business Hotel (6500yen=1 room 1 bed, 9000yen=1 room 2 bed)
If you want to stay comfortably, I recommend to stay in this kind of hotels. It is simple but has beautiful shower and toilet and clean bed, and has wifi service including breakfast. About 10 min by train from my station, and 10 min by train from "Ikebukuro" station in central Tokyo. If you stay in central Tokyo area, it cost more (+1500yen). Booking needed.
*my recommendation 1 "Toyoko-inn"
*my recommendation 2 "Super Hotel"
Capsule hotel (3500yen)
This is our unique culture. The hotel has a lot of capsule bed like a honeycomb. Guest can sleep in this capsule. The capsule has a curtain, so you can keep your privacy. But if another guest make a big snore, everybody can't sleep! You have to have an earplug. Some hotels has a for woman only room. It is not necessary to book it.
Comic cafe (2000yen)
This is our most unique culture in the world! Actually, this is not a accomodation, but cafe. You can use a very tiny room which has reclining chair and TV or PC. The cafe has a lot of comics like a library. People can read comics in this tiny room or you can use internet with sitting the chair. But many of peoples are using as a accomodation for 1 night. And it is amazing that you can drink free juice and coffee. Some of them has a shower room! It is not necessary to book it too.
Permission for location
When you want to take a photograph or shoot video camera, you need to have permission depends on situation. In the building, office, park, institution, shop, restaurant,,,we sometimes need to apply to the manager about our shooting in advance, at least 3 days before visiting. We should explain the details of our job to them and send some project book. And they sometimes demand to put a signature for us into an application form.(And some of them demand a location fee!) It is not easy to say which is easy or which is troublesome. So, please ask me about it before coming to Japan as early as possible.
<WiFi and Internet>
I guess that many of you wants to use iPhone or Android Tablet by using public WiFi. But there are only few free WiFi service at the public area in Japan. They have free service only at the majour station or some public facilities. It is not useful for the foreign visitors. But it is the present situation in Japan. Most of Wifi service need to contact to the campany. So i can provide free WiFi service by using via my network during the work with me.
And I also have the "rental pocket WiFi router service". Details on Equipment rental page.
If you want to use more faster speed and to send big file data, you have to use online network in Internet Cafe (Comic Cafe). It cost about \500-600 yen /hour. And most of the hotel have Wifi or net connection service as well.